The Hazel Atlas glass apple pattern was made between the 1940s and 1950s in several platonite colors. The master bowl shown to the right measures about 10" wide and has an apple blossom impressed on the bottom. The Apple bowls do not have the standard Hazel Atlas glass mark (H over A), however, no other company produced these, so therefore it is easily identified as Hazel Atlas. This is the master bowl and was complemented by smaller bowls in the pattern colors. A green set would have green, gray, chartreuse and red smaller bowls. This snack set was usually boxed with 6 smaller bowls and included a large plastic serving spoon and fork. The Value of the master bowl is around $12 with the apple blossom.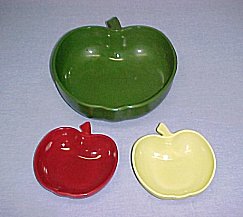 The Apple Bowl sets were used for serving salads and deserts at the dinner table. My sister-in-law remarked how her mother would use the smaller bowls as cereal bowls for her and her brother. Today the Master Bowl can be hung on the kitchen wall with the apple blossom showing, as a nice 1950s decoration.

Some of the master bowls do not bear the apple blossom impression and they generally sell for $5 or $6. The smaller berry bowls measuring about 5" wide sell in the $3-$5 range. A complete boxed set is usually about $20-$25. Hazel Atlas sold these primarily through discount stores in the USA and Canada. Although not considered Depression glass, they were part of the colorful kitchen glass movement of the late 1940s and 50s. Learn more about Hazel Atlas Glass at the Official Website, along with hundreds of pictures, pages, and price values.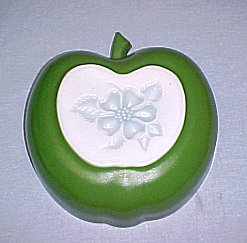 Hazel Atlas Glass Apple Master Bowl
Do you remember using Hazel Atlas Glass items when you were a child? Join our
free newsletter
and share your stories with other collectors and members of the
Hazel Atlas Glass website
.